During the heaviest rainfall in Sosúa for 50 years, I had to cross the main street that had been transformed into a wide swirling river. I reached the other side on the arm of a tall young boy
and up to my waist in the reddish-brown muddy water with pieces of wood floating in it, and I realised that without his help I would not have managed this. Judith and Roberto's shop where we had our meeting was completely flooded. Soaked through, I returned to the Casa Marina hotel, where I am always so warmly and royally received and have now become part of their 'family'.

The following days, schools were closed to help take care of the people affected. There were many victims and houses had been washed away. Everyone was salvaging their things, and many mattresses stood against walls in the street to dry.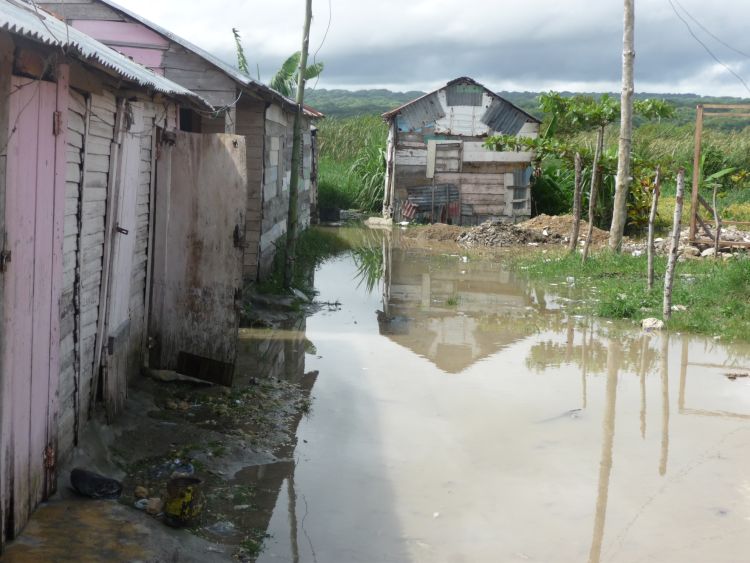 The meeting of the Sosua Kids Association, to which I had been invited, took place with the loud drumming of the rain pouring down in bucketfuls. We stubbornly continued the meeting, however. A few days later, at the home of board members John and Jenni, I saw hundreds of rucksacks, pencils, pens, and other materials stored to provide school supplies for approximately 460 children in August. It is also very difficult organisationally to reach these children, who are very scattered, living in remote areas, and will not find it easy to get to the distribution points. Our foundation gave money for some 120 children this year. In my visits to the schools of Escuela Gregório Luperón, La Cienaga, and Los Castillos, is always nice to see that the children have grown a little, and I have now also become almost a familiar face for most of them.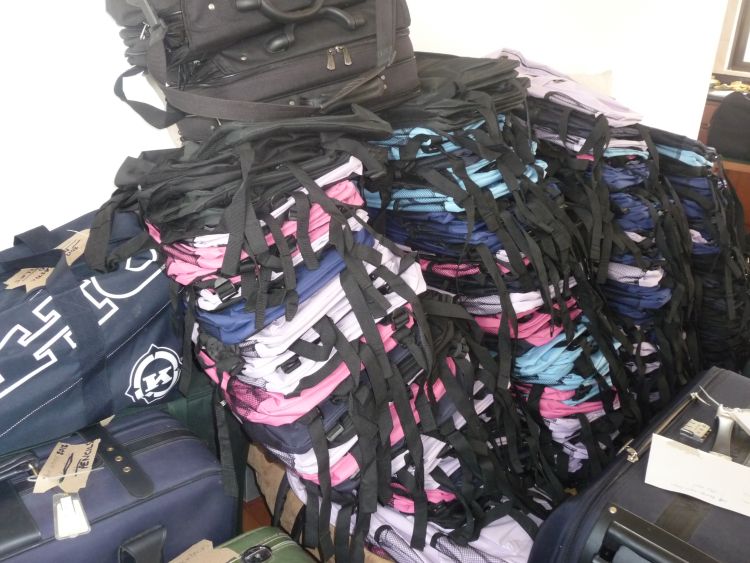 On the beach, mostly Haitian children walk lugging large baskets of banana cake or sweets that they are trying to sell. They have to help their household to raise money in this way, and the suffering is incalculable if they return with no money. I talked to these children and happily heard that they do attend school regularly, so I gave them some pencils and pens. When they, almost fully dressed, went swimming, they left their baskets of goods and a little money close to my chair on the beach and asked me to guard them. They apparently had much less trust in the men who always camp on the beach, and rent umbrellas there, than in me, a 'perfect stranger'. You can see the harshness of their lives in the eyes and attitude of these young children.
I visited the Colegio Asher a number of times, of course, and saw the handicraft lessons. I again delivered school supplies, more than 20 kilos of pieces of cloth, and many beautiful t-shirts that I had received from Fox Productions in Weesp once more. Thanks to Arkefly, I was again able to take 50 kilos extra at no charge.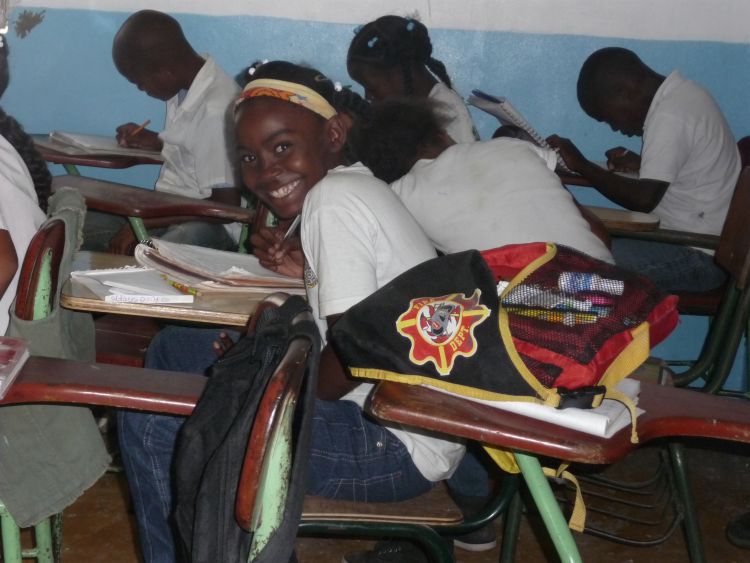 All the familiar faces were there. I also saw Fano again, who had the serious accident last year. What would have become of him if Judith and Roberto had not taken such good care of him? He can walk a little bit with a stick, but it is still unclear how much this could still improve. His future has collapsed, but at this school he has a roof over his head, food, attention and love.
In the Casa Marina hotel, I met Marco, who had been born in Guatemala and emigrated to New York at an early age, where he became a teacher. Now retired and travelling, we started talking about the Colegio Asher. He offered to so some filming and photography, and despite the rain we were still able to visit the Colegio and also take some pictures of the new site that has been bought and on which the new school will be built. Now we are looking for money to build it!

Finally it looks as though we are going to get the 350 kilos of pieces of cloth for the handicraft lessons transported to Sosúa. Nothing has been completely finalised at the moment, mid-May, but after a request from Rotary Netherlands to Rotary Sosúa, I have had telephone contact there with a Rotarian lady who has promised to help us. The key factor is now Wereld Missie Hulp (World Mission Aid), a Belgian relief organization, which will probably assist us with the actual transport from Weesp to Sosúa, which would be really terrific.
All in all, my stay in Sosúa was again very useful. You definitely cannot arrange everything from the Netherlands. Personal contacts open doors, and these contacts are often very heart warming. It only remains for us to go and find money here, which is becoming increasingly difficult during the economic crisis in Europe. Nevertheless, don't most of us here have things much better than many adults and children in the Dominican Republic, who actually live in dire poverty and go hungry every day?