The flooded North coast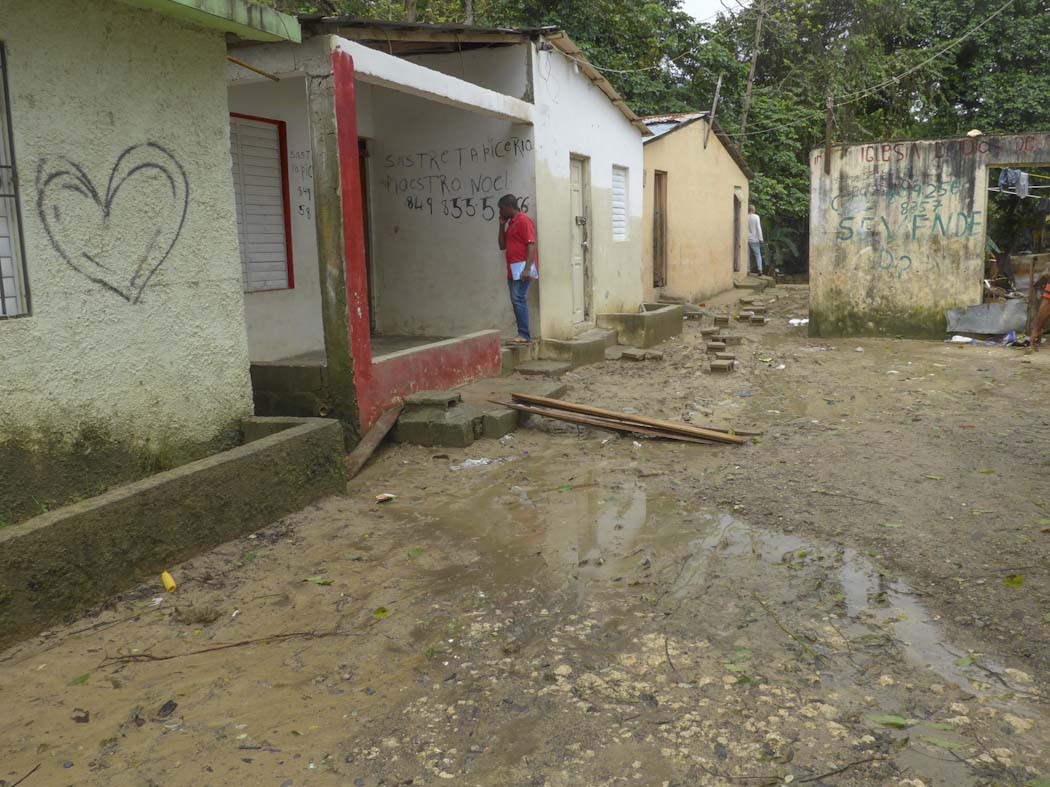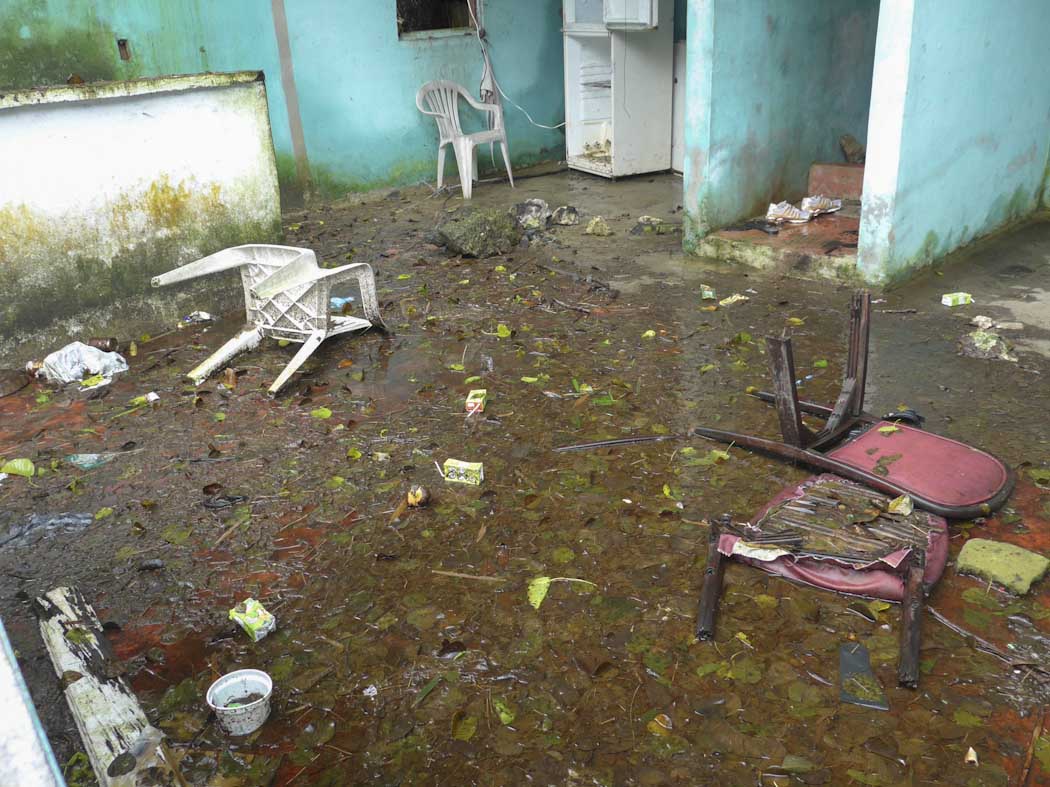 It had already rained for more than four weeks when I arrived, and the North coast of the Dominican Republic (DR) had been declared a disaster area. There were another two weeks of torrential rains during my stay. Houses, roads, bridges and crops were washed away and there were also some victims. This had not happened for 60 years. Mopping up with the tap running was put into practice here. The airport was closed several times because everything was flooded. The water washed into the hotel rooms a few times. I had put my bags and everything off the floor out of precaution, but the next day the water was also dripping a bit out of the ceiling and, of course, onto a soft case…..
However, boots, umbrella and a hairdryer help you through everything (if there is electricity).
Erik, from the Colour 4 Kids foundation (C4K) also travelled with me on the same flight. Our foundations operate independently from each other on the same projects in the DR, but the C4K is a much larger foundation and is mainly busy with smaller building projects. Our cooperation has run very smoothly since 2012 and is very useful for all parties.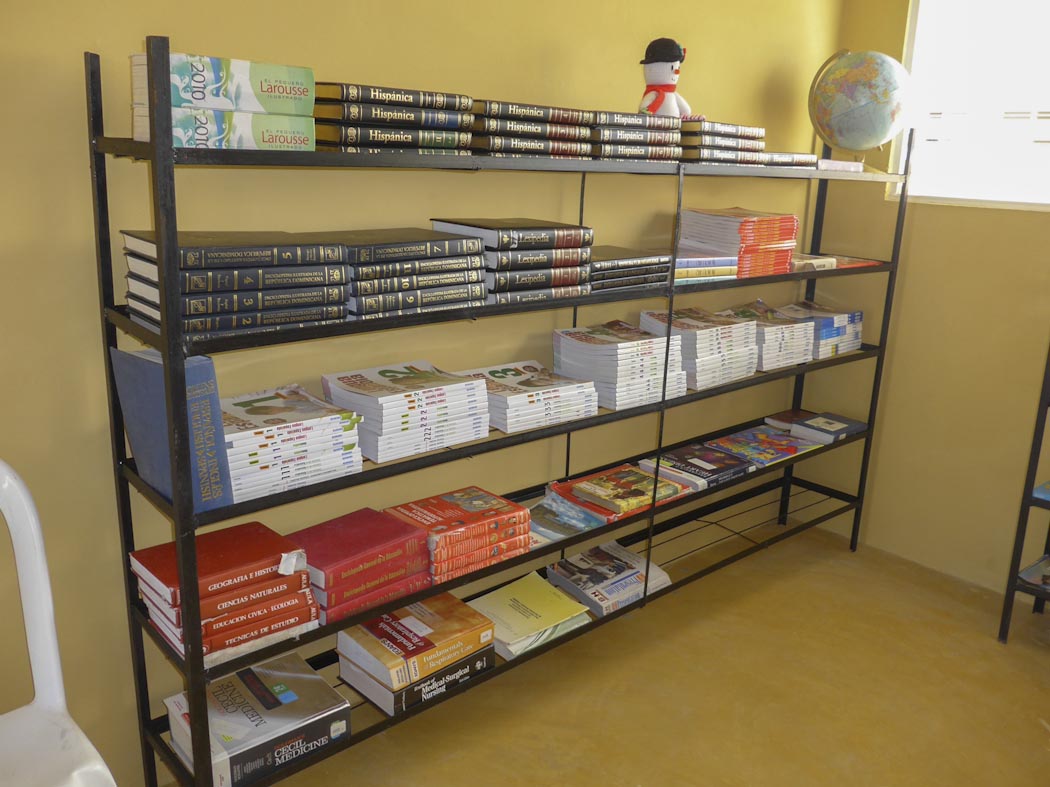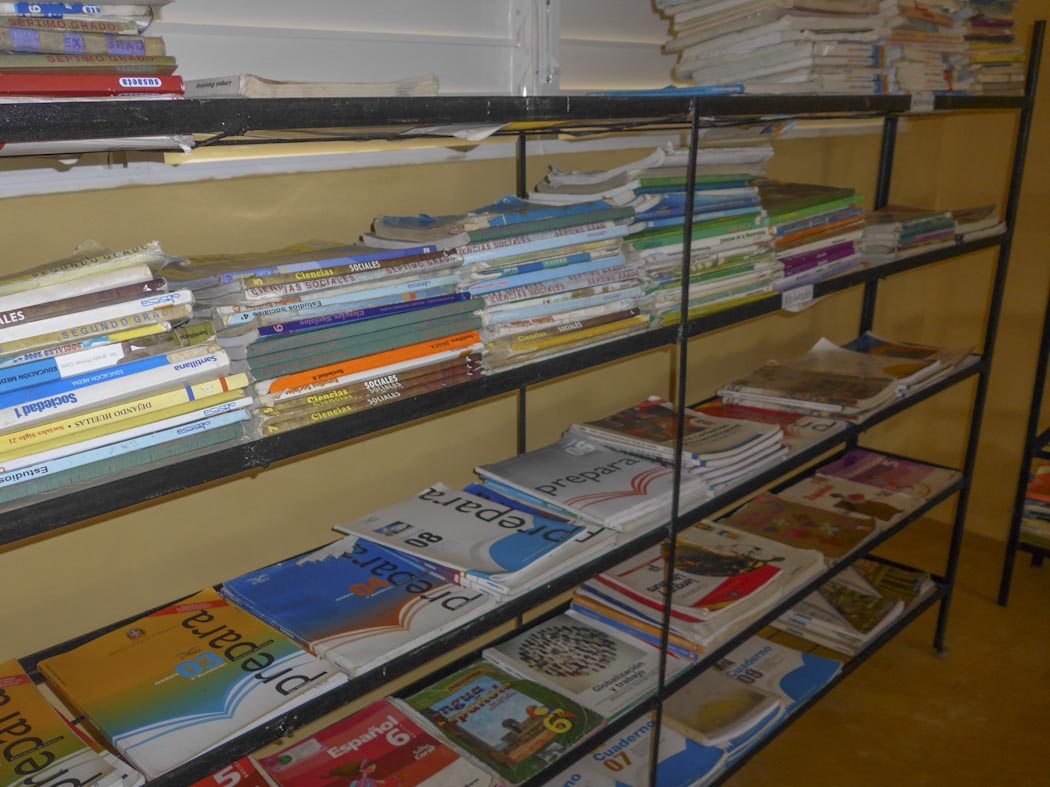 Judith proudly showed me the new library of the Colegio Asher, which has been funded by us. It is definitely a good start, but much more needs to be purchased. The third building, in which the library is located, has now been put into use. Only the sports-ground still has to be organised. The school is now really finished and the children also have new uniforms. Fortunately, the buildings have not suffered much water damage.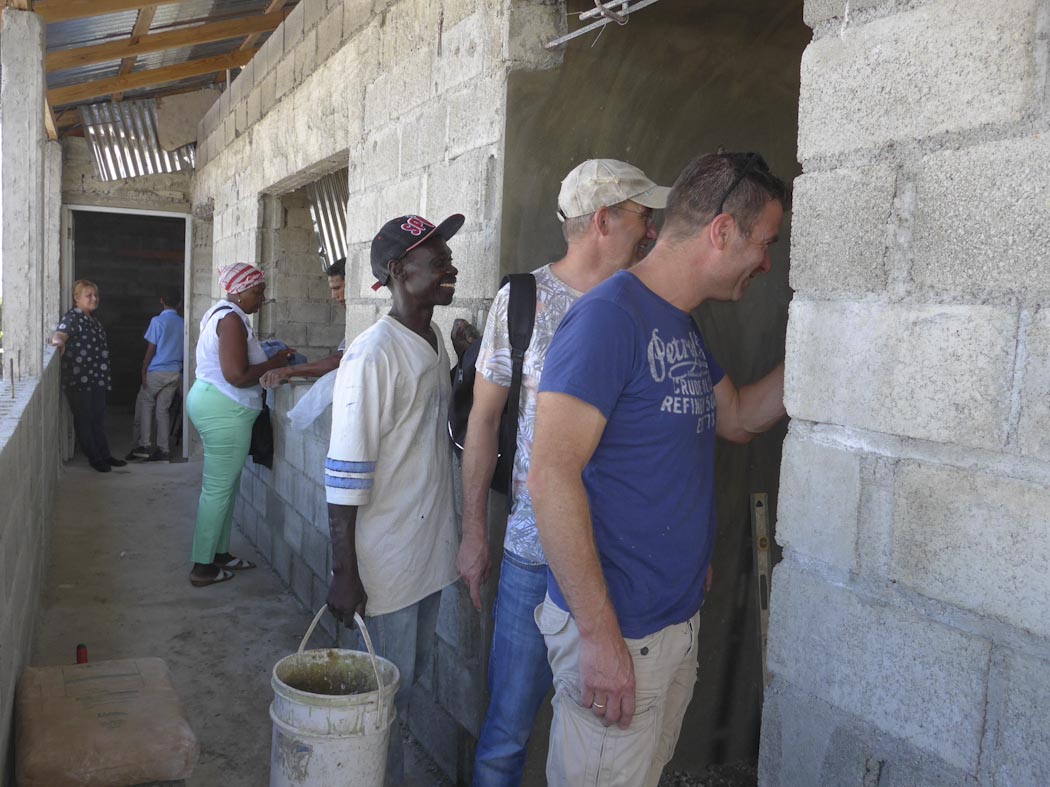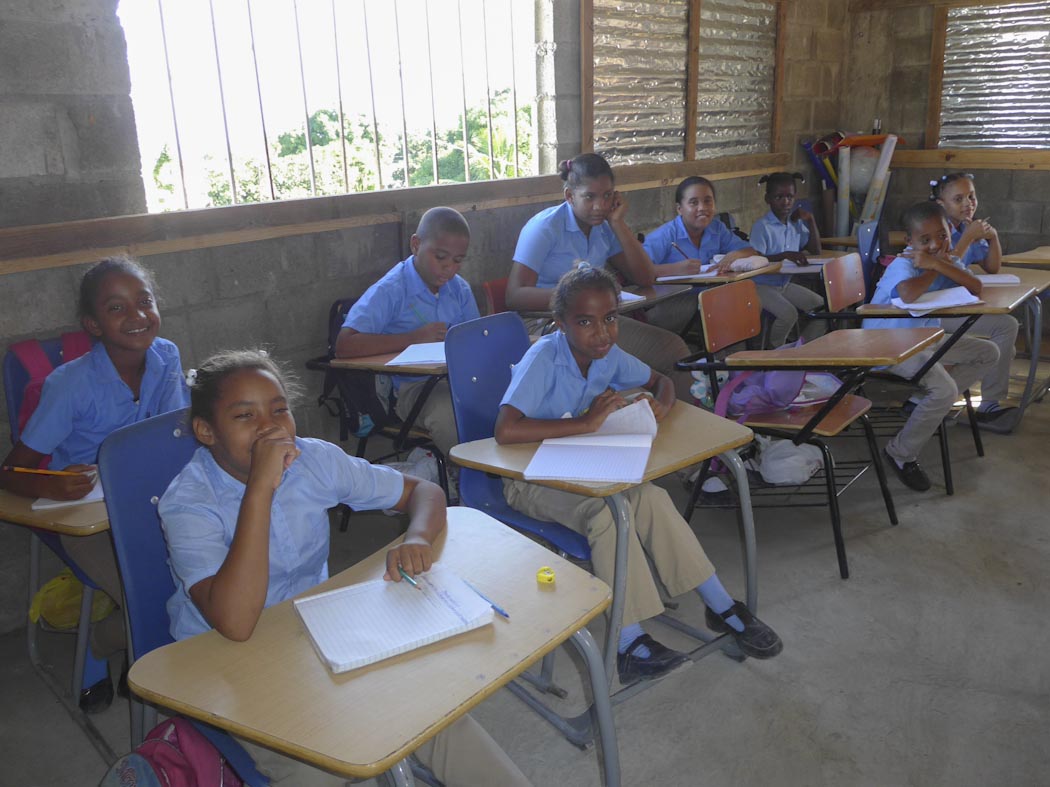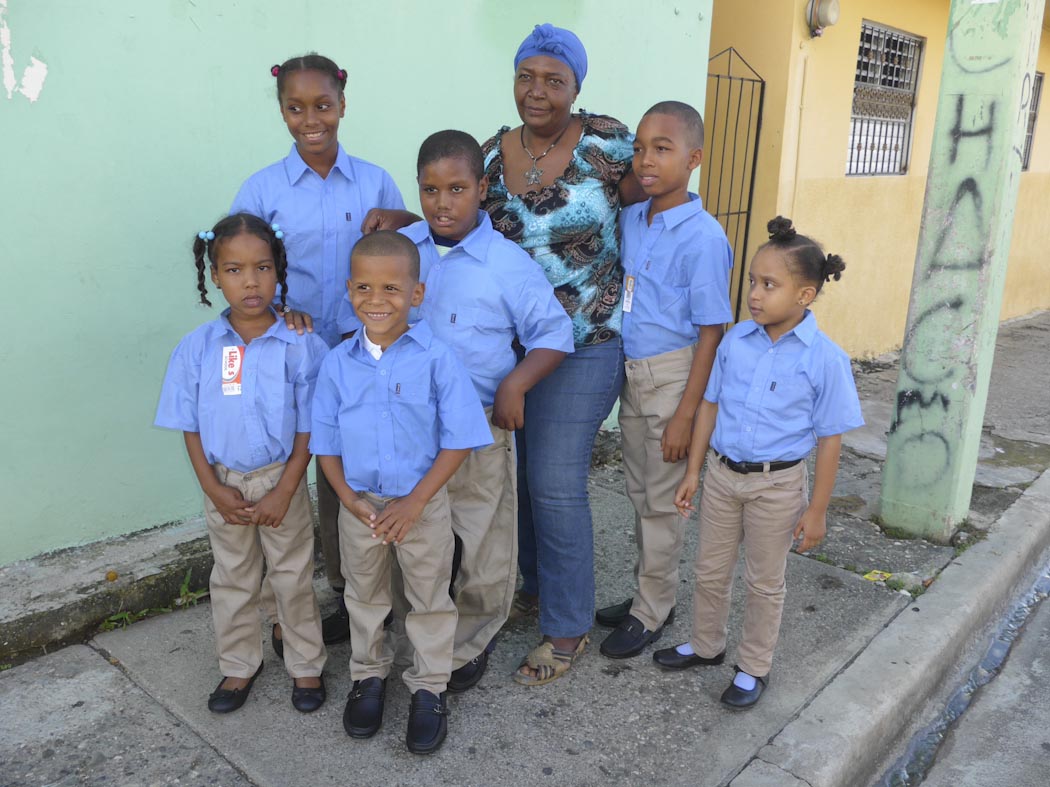 With Erik we went several times to two projects in Puerto Plata. The C4K is providing supervision and funding for three new large classrooms to be built for a school in the Ensanches Miramar district. These are now almost complete and the children are already being taught in one classroom. Our foundation has for a number of years already provided school uniforms to needy pupils of this school, among others. Rosa is important support and help for our foundations from the Netherlands. With Rosa we have again been able to assist a number of children with new uniforms.
The other project, which both our foundations support, is the afternoon school of Aurora, which receives children and thus keeps them away from drugs and crime on the streets. The children learn all types of handwork. I had asked Erik to see whether the C4K could repair the roof of the building. When we arrived, it turned out that the children were studying outside because the continuous rain had made the wooden building completely uninhabitable. It was about to collapse. It was impossible to repair it and Erik suggested looking for something else. Around the corner opposite the house of Aurora is an old cottage where a 92 year old man lives, without any family, who has been cared for by Aurora for many years. Erik decided that C4K would fully renovate that cottage. Separated by a wall, one half of the cottage can be used by the school and the other half by the old man, who will also get a liveable home. This has all now been realized and celebrated with a party for the impoverished neighbourhood.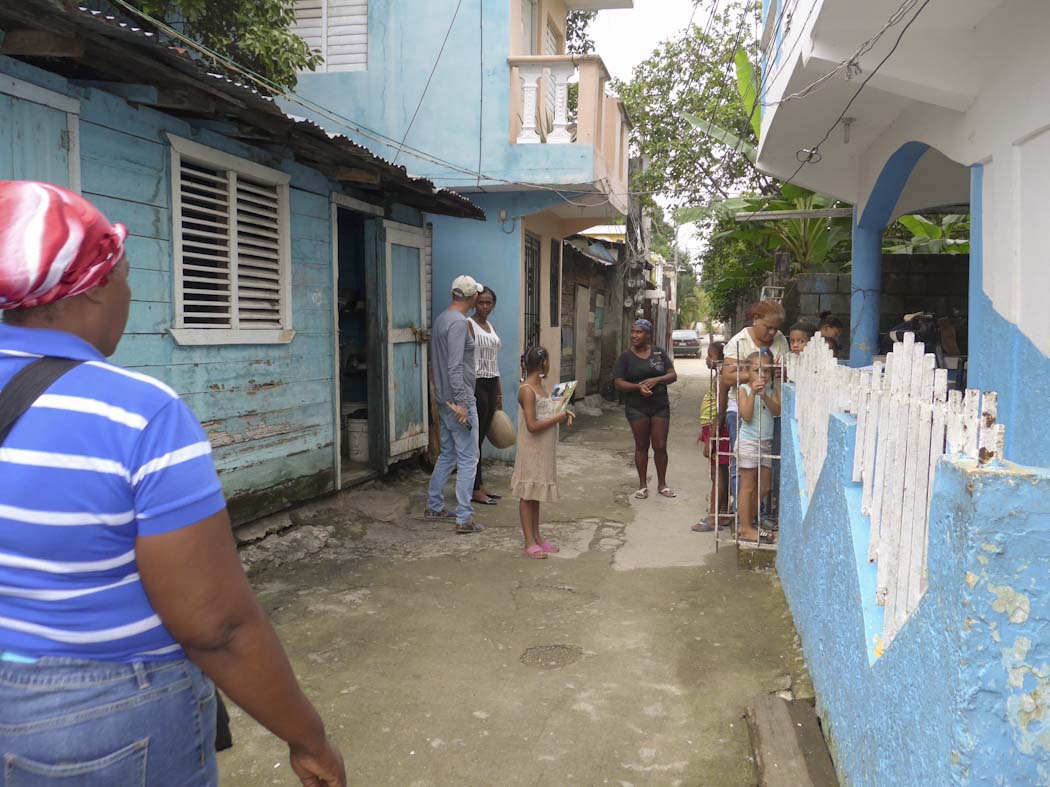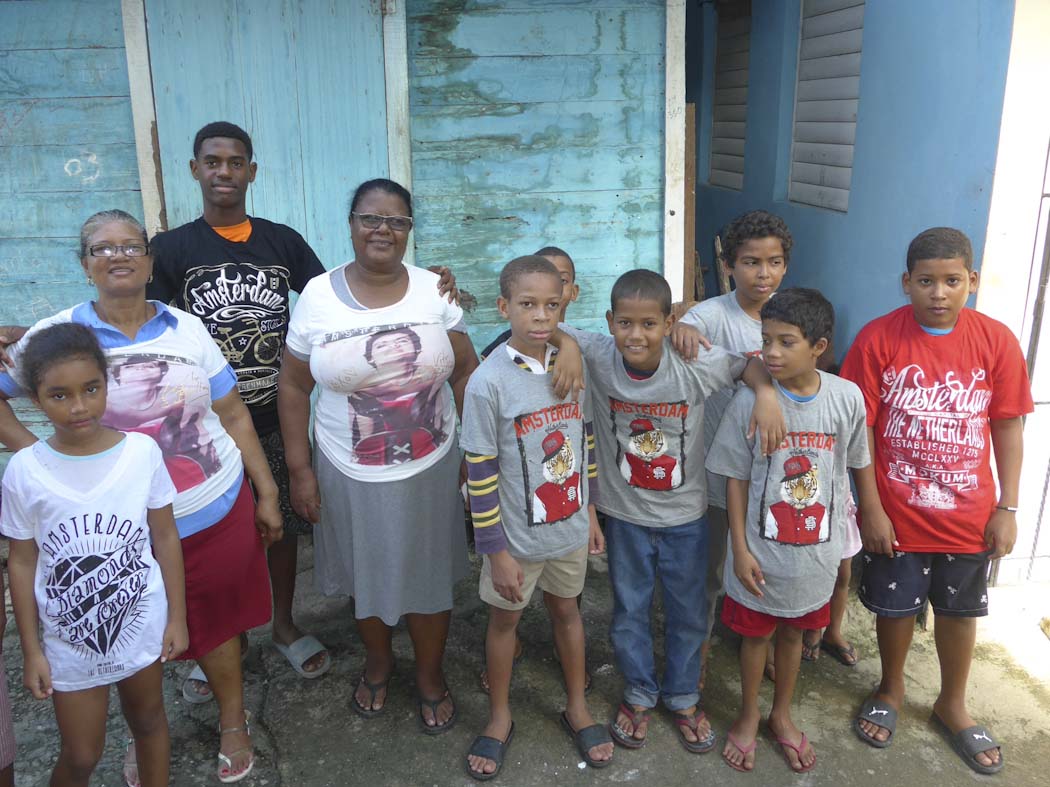 Teo (a high-ranking official from the education district of Sosúa and surroundings), who is my support and mainstay for the school uniforms, would originally take me to the rural village, where we helped children to go to school in May. The washed away bridges and undermined parts of roads made us decide not to risk our lives but to remain in the neighbourhood. We visited Sosúa Abajo in the rain and trudged through the mud. A lot of houses in Sosúa Abajo and Maranatha had been completely or partially washed away by the rain. Other houses are still standing, but have a lot of water damage. Teo suggested helping children from these affected areas to get new school uniforms.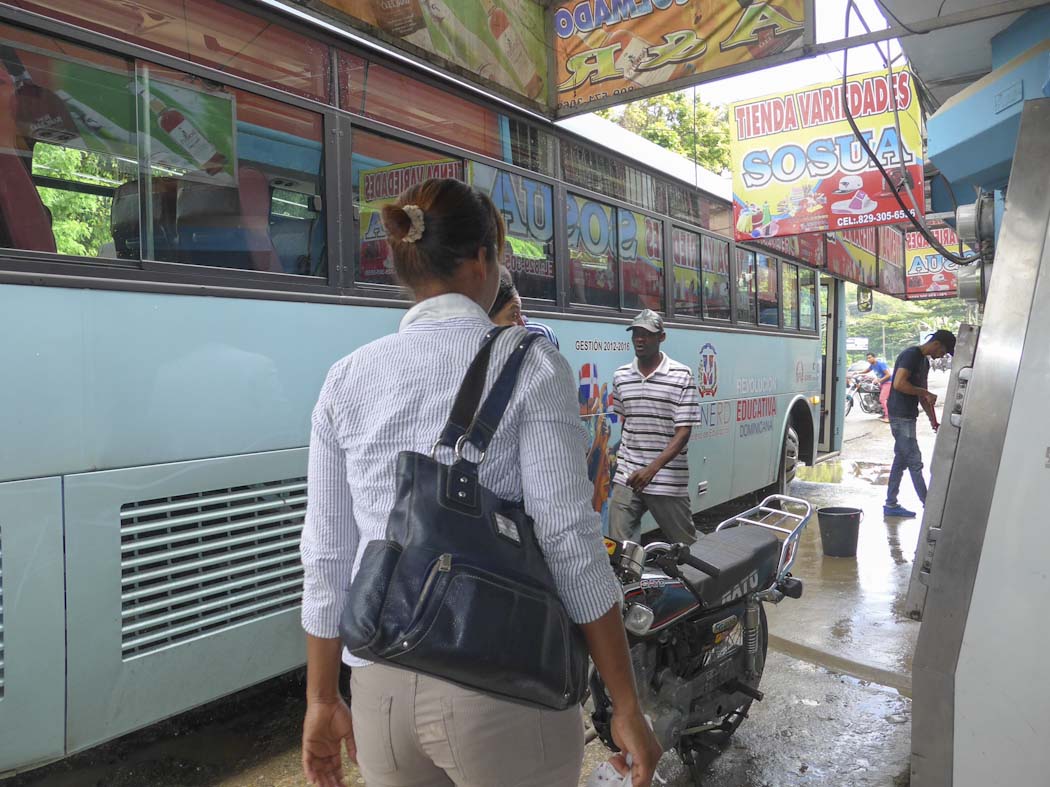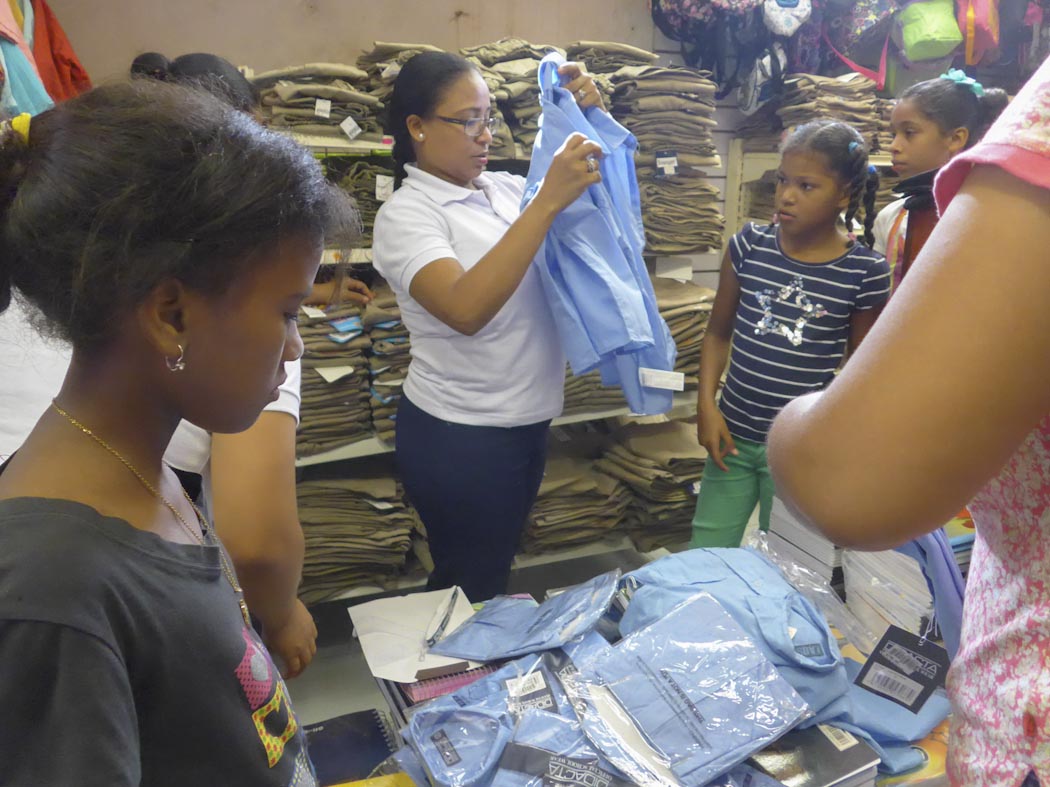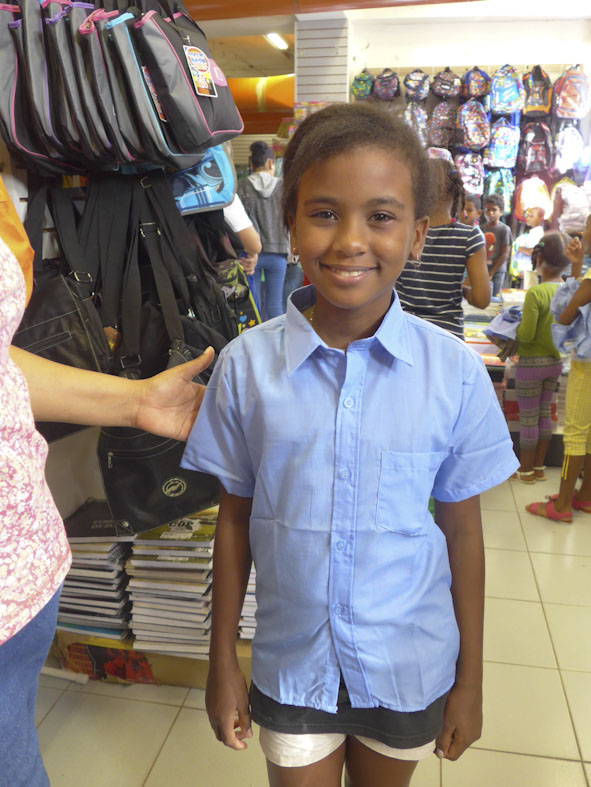 He had organized an old school bus for the transport of 25 children. Our foundation did have to pay for the fuel and thus a head and some teachers from the school in Sosúa Abajo and I went with 25 children to Puerto Plata in order to buy school uniforms, etc. The big bus could not go into the small town, so we walked with a long string of children attracting a lot of attention through the streets, and the available police ensured safe crossings. In the shop, Casa Nelson, as in May a lot of staff had been assembled to enable everything to run smoothly. After all the trouble of washed-away homes and belongings, we saw the children once again become happy and laugh during this special outing. After returning to Sosúa Abajo I received a round of applause on stepping out of the bus, also from Dominican bystanders. It is clear that the Dominicans have had a lot to put up with, but they have tremendous resilience and there is soon laughter again. After repairs and renovations they are all dancing again. The men from C4K and I have also literally done that together with Dominicans!!!